In this plan the existing library building is completely renovated with all mechanical systems replaced. The structural problems and drainage issues are resolved as described in the other two renovation designs.
The first floor is reconfigured with the children's room relocated and the historic Ell housing the archives and the Woodstock author shelves. This room can also be closed off for small meetings or study. In addition, there is a second, larger private meeting room or classroom. The Library staff has its own entrance, lavatory and green room. The main reading room & stacks with ample choice of seating adjoin a large computer area & DVD & audio tape stacks. The check in/out desk is centrally located in this area.
Size
7,200 sq. ft. Renovation
3,340 sq. ft. Addition
10,540 sq. ft. Total
Cost Estimate
$1.7 million Renovation
$1.3 million Addition
$3.0 million Total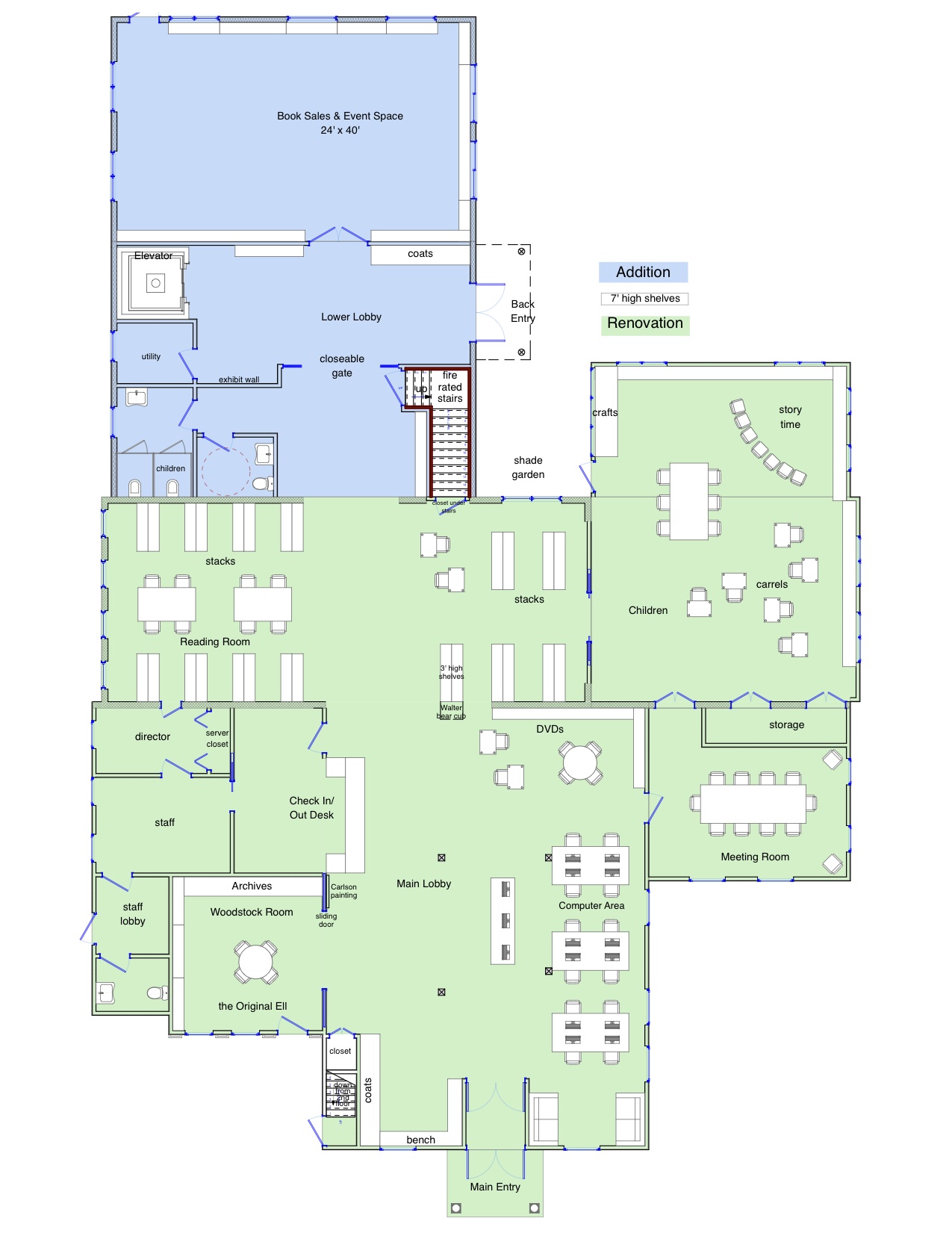 The major change to the exterior is the addition of a large dormer window flooding the second floor with light; an inspired idea incorporated from architect Curry Rinzler's plan. This dormer creates a truly special 2nd fl. room and adds a certain grandeur to the Library Facade. At the same time it relates to the surrounding vernacular architecture. Across the street the Christian Science Church, which itself evolved from an Art school, exhibits a similar dormer. The second floor is now easily accessible by two fire rated stairs and a elevator. A one story 24'X40' addition replaces the existing book barn and serves duel use as a room for large events and as the "book barn" with shelves lining all walls. If extra shelving is needed, double rolling shelves can be added.
The connecting space is replaced by a two story Lobby with elevator to the second floor, public bathrooms and a utility room. The second floor of this Lobby space has bathrooms and the "Teen Rm" (furnished with bean bag seating & young adult literature) and provides access to a gallery or work space and the front "Dormer Rm" used as an art room and Makers' Space.
The Lobby and the Event Space can be closed off from the rest of the Library when evening events are planned.